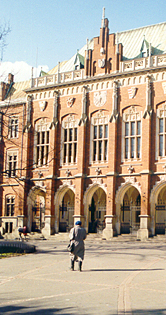 Project coordination:
Prof. Paweł Moskal
e-mail: p.moskal@uj.edu.pl
tel.: +48 12 663 55 58
fax.: +48 12 663 70 86
CONDITIONS
The PhD programme comprises 24 PhD projects which depending on the emphasis put in the research work, can be assigned to one of the following groups:
Medical applications of nuclear physics: Innovations in medical imaging and radiotherapy
Nuclear energy research: fission, fusion and spallation processes
New materials and technologies in radiation detection
High performance data processing: Pattern recognitions and optoelectronics based real-time signal processing
In the framework of the programme each enrolled PhD student will carry out research under the guidance of at least three experts in the field covered by the project, and will have a possibility to visit, learn and to gain experience in at least two foreign institutions possessing equipment and expertise to perform the specific studies.


Regulations:
1. Candidates will be selected by Recruitment Committee in two steps. In the first step the Committee will perform the evaluation on the basis of the applications. Candidates who pass the first stage will be invited for the personal interview. The applications should comply with the rules specified in the recruitment section.
2. The studies last 4 years including the preparation and defence of the Ph.D. thesis.
3. The students will spend 0.5 - 2 years carrying on their research in the foreign partner institutions.
4. The scholarship is: 3500 PLN (~875 EUR ) in Poland and 5000 PLN (~1250 EUR) while carrying the research abroad. This amount includes 500 PLN (~125 EUR) for a voluntary pension insurance of each student. If a student already has a pension insurance from another source, the scholarship is 3000 PLN (~750 EUR) and 4500 PLN (~1125 EUR) respectively.
5. Sixteen projects are now opened for the recruitment and the starting date of actual studies is November 1st 2010. Students interested in these projects are encouraged to contact corresponding supervisors or coordinator as soon as possible.
6. The Candidates invited for the personal interview may apply for the reimbursement of the travel and accomodation costs.
7. Only candidates who completed master studies or the first year of the PhD studies may be enrolled to the programme.