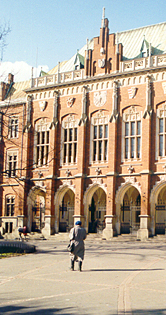 Project coordination:
Prof. Paweł Moskal
e-mail: p.moskal@uj.edu.pl
tel.: +48 12 663 55 58
fax.: +48 12 663 70 86
PARTNERS
In the program altogether 68 researchers will be involved from 20 Laboratories and 28 Universities. It comprises the most recognized and well equipped nuclear physics research institutions and universities from highly developed European countries, as well as from USA and Japan. Foreign partners are well recognized scientists, many of them constituting the world elite of researchers in their fields of activity.

Research Institutes
A. Soltan Institute for Nuclear Studies, Warsaw, Poland
Atomic Energy Commission, Saclay, France
German Cancer Research Center, Heidelberg, Germany
Grand Accelerateur National d'Ions Lourds, France
GSI Helmholtz Centre for Heavy Ion Research in Darmstadt, Germany
Institut Pluridisciplinaire Hubert Curien, IN2P3/CNRS, France
KVI Kernfysisch Versneller Instituut, Netherlands

Laboratoire de Physique Corpusculaire, Caen, France

Laboratory of Instrumentation and Experimental Particles Physics, Lisboa, Portugal
Max-Plank-Institute for Nuclear Physics, Heidelberg, Germany
National Institute of Nuclear Physics, Catania, Italy
National Institute of Nuclear Physics, Florence, Italy
National Institute of Nuclear Physics, LNF Frascati, Italy
National Institute of Nuclear Physics, Milano, Italy
National Institute of Nuclear Physics, Rome, Italy
Nuclear Physics Institute Polish Academy of Sciences, Cracow, Poland
Nuclear Physics Institute, Research Center Jülich, Germany
Paul Scherrer Institute, Switzerland
Research Institute for Particle and Nuclear Physics, Budapest, Hungary
Swiss Federal Institute of Technology, Zürich, Switzerland
The Svedberg Laboratory, Uppsala, Sweden
Universities
Autonomous University of Barcelona, Spain
Bochum University, Germany
Bonn University, Germany
Catholic University Leuven, Belgium
Fordham University, New York, USA
J.W. Goethe University of Frankfurt, Germany
Jagiellonian University, Poland
Justus-Liebieg University, Giessen, Germany
Kyushu Institute of Technology, Japan
Kyushu University, Japan
Lund University, Sweden
Nara Women's University, Nara, Japan
Northwestern University, Evanston, Illinois, USA
Roma-Tre University, Italy
Technical University, Dresden, Germany
Université de Strasbourg, Strasbourg, France
University "La Sapienza", Rome, Italy
University of Ferrara, Italy
University of Florence, Italy
University of Georgia, Athens, USA
University of Groningen, The Netherlands
University of Ioannina, Ioannina, Greece
University of Lisbon, Portugal
University of Technology, Munich, Germany
University of Trento, Italy
University of Vienna, Austria
Uppsala University, Sweden
Wuppertal University, Germany